Spieleleistung
Alle Tests sind ungefähre Benchmarkwerte (je nach eingesetzter CPU können sie stark abweichen) und wurden ohne Antialiasing (AA) und ohne Anisotrope Filter (AF) durchgeführt.
Company of Heroes: 1440x900, hohe Details -> spielbar (für komplett flüssiges Spiel ev Auflösung und Details reduzieren)
F.E.A.R.: 1024x768, CPU max, GPU max: 24-40 fps -> spielbar - voll spielbar
Command and Conquer 3 (C&C 3): 1024x768, hohe Details: 30 fps ->flüssig spielbar
Supreme Commander: 1024x768, hohe Details: 16-44 fps, gut spielbar

Colin McRae Dirt: 1024x768: 20 fps -> nicht flüssig spielbar, bei geringerer Detail-Einstellung flüssig spielbar.
S.T.A.L.K.E.R.: 1024x768, Maximum Quality: 18 fps durchschnittlich -> nicht flüssig spielbar. Bei geringerer Qualität flüssig spielbar
Anno 1701: 1024x768, hohe Details: 48 fps -> voll spielbar
Doom 3: 1024x768, Details: Ultra: 67 fps -> voll spielbar
Age of Empires 3: 1024x768, hohe Details (ausser Footprints), Skirmish zu 8t: 30-40 fps -> voll spielbar
Quake 3 Arena: 1024x768, max Details: 236.5 fps -> voll spielbar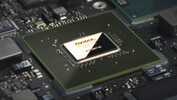 La scheda grafica Nvidia GeForce 9400M G è una scheda grafica integrata senza memoria condivisa. È stata immessa sul mercato nell' Ottobre 2008 in concomitanza con l'uscita dei nuovi modelli Apple MacBook, MacBook Pro e MacBook Air (nelle loro specifiche tecniche viene definita come 9400M). Nel momento della presentazione era la più veloce mGPU (motherboard GPU) sul mercato.
Le prestazioni della 9400M G sono comparabili con quelle delle schede grafiche entry level con memoria dedicata come la GeForce 9300M GS. Perciò, è adatta per giocare a vecchi giochi (come Doom3) fluentemente con livello di dettagli alto e i nuovi (quelli non troppo spinti) fluentemente con livello di dettagli basso. Warhammer Online dovrebbe girare su un MacBook 2.4 Ghz senza grossi problemi. Confrontata con il modello precedente presente sul MacBook (Intel GMA X3100), la Geforce 9400M dovrebbe avere prestazioni 5 volte superiori.
Utilizzando memoria condivisa le prestazioni sono decisamente migliori se si utilizzano moduli DDR3 piuttosto che DDR2 (fino a 33% di performance in più)
Il consumo di corrente di questa scheda è pari ad un massimo di 12 Watt TDP (per tutto il chipset vi ricordiamo che sia il north- e il southbridge sono integrati) alla pari con la Intel GMA X4500MHD (Centrino2)
Il chipset supporta Hybrid-SLI (HybridPower) in congiunzione con alcune schede GeForce 9x00M come la 9600 GT. HybridPower è una tecnica che permette di scelgiere tra la scheda integrata e quella dedicata se le performance o la durata della batteria lo richiedono. Al momento l'utente deve utilizzare uno strumento per passare dall'una all'altra(non supportata in XP, mentre in Windows Vista e MacOs funziona. Purtroppo in MacOs vi dovete riloggare per rendere effettivo il cambiamento). GeForceBoost per "spingere" le performance (usando SLI) non è supportato nel MacBook Pro.
Come la 9500M G anche la 9400M è caratterizzata da 16 processori stream che fanno il lavoro svolto in passato dai pixel- e vertex-shader.
La MCP79MX (nome in codice della Geforce 9400M) supporta la CPU nella decodifica di video HD. Integra il motore PureVideo HD (processore VP3 video). Inoltre, il chip può essere programmato usando CUDA e può accellerare alcune operazioni in Photoshop CS4)
Nello stesso periodo sono state presentate le schede grafiche per sistemi desktop 9300 e 9400 mGPU, che si comportano in modo molto simile a quella per i sistemi desktop. (La 9300 dovrebbe essere lievemente più veloce rispetto alla 9400M)
| | |
| --- | --- |
| Produttore | NVIDIA |
| GeForce 9400M Serie | |
| Nome in codice | MCP79MX |
| Pipelines | 16 - unified |
| Velocità del core | 450 MHz |
| Velocità de Shader | 1100 MHz |
| Memoria condivisa | si |
| DirectX | DirectX 10.0, Shader 4.0 |
| Transistor Count | 282 Milioni |
| tecnologia | 65 nm |
| Caratteristiche | PureVideo HD VP3 |
| Data dell'annuncio | 14.10.2008 |
| Link alla pagina del produttore | http://www.nvidia.com/object/product_gef... |
v1.17
log 20. 21:42:49
#0 no ids found in url (should be separated by "_") +0s ... 0s
#1 not redirecting to Ajax server +0s ... 0s
#2 did not recreate cache, as it is less than 5 days old! Created at Thu, 20 Jan 2022 12:58:48 +0100 +0.001s ... 0.001s
#3 no comparison url found in template nbc.compare_page_1 needed +0.072s ... 0.073s
#4 start showIntegratedCPUs +0s ... 0.073s
#5 return log +0.015s ... 0.088s
Gpu Related Reviews Plugin
Recensioni Notebook con NVIDIA GeForce 9400M (G) / ION (LE) la scheda grafica
Apple MacBook Air 13 inch 2009-06 MC234*/A: Intel Core 2 Duo SL9600, 13.30", 1.3 kg
recensione » Recensione Apple MacBook Air - Mid 2009 (MC234*/A)
Apple MacBook Aluminium: Intel Core 2 Duo P8600, 13.30", 2 kg
recensione » Recensione Apple MacBook Aluminium (Guscio Unibody, 13", 9400M)
recensione
»
Aggiornamento recensione Apple MacBook Aluminium (Unibody, 13", 9400M)
Apple MacBook Air 13 inch 2009-06 MC234*/A: Intel Core 2 Duo SL9600, 13.30", 1.3 kg
Recensioni esterne » Apple MacBook Air 2009-06 2.1 GHz MC234*/A
Apple MacBook Pro 13 inch 2009-06: Intel Core 2 Duo P8400, 13.30", 2.1 kg
Recensioni esterne » Apple MacBook Pro 13 inch (06/09)
Apple MacBook White 2009-05: Intel Core 2 Duo P7450, 13.30", 2.2 kg
Recensioni esterne » Apple MacBook White 2009/05
Apple MacBook White 2009-10 MC207D: Intel Core 2 Duo P8600, 13.30", 2.3 kg
Recensioni esterne » Apple MacBook White Late 2009
Asus Eee PC 1201N: Intel Atom 330, 12.10", 1.5 kg
Recensioni esterne » Asus Eee PC 1201N
Dell Studio XPS 1340: Intel Core 2 Duo P8400, 13.30", 2.4 kg
Recensioni esterne » Dell Studio XPS 1340
Fusion Garage joojoo: Intel Atom N270, 12.00", 1.1 kg
Recensioni esterne » Fusion Garage joojoo
HP Mini 311: Intel Atom N280, 11.60", 1.5 kg
Recensioni esterne » HP Mini 311
Lenovo IdeaPad S12: Intel Atom N270, 12.00", 1.6 kg
Recensioni esterne » Lenovo IdeaPad S12
MSI X-Slim X320: Intel Atom Z530, 13.40", 1.7 kg
Recensioni esterne » MSI X-Slim X320
Samsung N510 black: Intel Atom N270, 11.60", 1.4 kg
Recensioni esterne » Samsung N510 black