Spieleleistung
Alle Tests sind ungefähre Benchmarkwerte (je nach eingesetzter CPU können sie stark abweichen) und wurden ohne Antialiasing (AA) und ohne Anisotrope Filter (AF) durchgeführt.
Company of Heroes: 1440x900, hohe Details -> spielbar (für komplett flüssiges Spiel ev Auflösung und Details reduzieren)
F.E.A.R.: 1024x768, CPU max, GPU max: 24-40 fps -> spielbar - voll spielbar
Command and Conquer 3 (C&C 3): 1024x768, hohe Details: 30 fps ->flüssig spielbar
Supreme Commander: 1024x768, hohe Details: 16-44 fps, gut spielbar

Colin McRae Dirt: 1024x768: 20 fps -> nicht flüssig spielbar, bei geringerer Detail-Einstellung flüssig spielbar.
S.T.A.L.K.E.R.: 1024x768, Maximum Quality: 18 fps durchschnittlich -> nicht flüssig spielbar. Bei geringerer Qualität flüssig spielbar
Anno 1701: 1024x768, hohe Details: 48 fps -> voll spielbar
Doom 3: 1024x768, Details: Ultra: 67 fps -> voll spielbar
Age of Empires 3: 1024x768, hohe Details (ausser Footprints), Skirmish zu 8t: 30-40 fps -> voll spielbar
Quake 3 Arena: 1024x768, max Details: 236.5 fps -> voll spielbar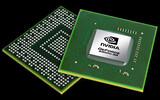 La scheda grafica Nvidia GeForce 9300 GS Directx 10 è adatta per portatili di dimensioni ridotte
Confrontata con la vecchia serie 8400M o 9300M G, la 9300MGS ha solo 8 unified shaders ed è prodotta con una tecnologia 65nm. Inoltre, integra il nuovo processore video VP3 (8400M e 9300M G avevano il VP2) con nuove caratteristiche e un miglior supporto nella decodifica dei video hd.
Assieme con la scheda grafica integrata Nvidia 9100 G, la 9300M GS, supporta Hybrid-SLI (HybridPower e GeForceBoost). HybridPower permette di scegliere tra la scheda integrata o la scheda grafica dedicata, se le performance o il risparmio energetico lo richiedono. Questo funziona solo con Windows Vista. Al momento l'utente per passare da una scheda grafica ad un altra deve usare un programma. Nel futuro Nvidia fare fare tutto il lavoro alla scheda grafica lasciando comunque all'utente di scegliere. GeForceBoost usa il processore della scheda grafica integrata 9100M G in sinergia con la il processore della scheda dedicata 9300M in SLI per ottenere un miglior frame rata.
Rispetto alla 8400M G, la 9300 GS ha un clock rate più alto e questo la porta ad essere più veloce. I nuovi giochi DirectX 10 girano solo se settiamo risoluzione e livello dei dettagli al minimo. I vecchi DirectX 9 come HalfLife 2 o Far Cry girano fluentemente senza problemi sia con livello di dettagli medio e alto.
Le versione desktop 9300 GE / GS dovrebbero essere simili: anche loro si basano sul core G98. Comunque le versioni desktop normalmente sono più veloci dato che hanno un clock rate più alto.
GeForce 9300M Serie

| | | |
| --- | --- | --- |
| GeForce 9300M G | 16 @ 0.4 GHz | 64 Bit @ 600 MHz |
| GeForce 9300M GS | 8 @ 0.55 GHz | 64 Bit @ 700 MHz |

Nome in codice
NB9M-GS
Pipelines
8 - unified
Velocità del core
550 MHz
Velocità de Shader
1400 MHz
Velocità della memoria
700 MHz
Larghezza del bus di memoria
64 Bit
Tipo di memoria
GDDR2, GDDR3
Max. quantità di memoria
256 MB
Memoria condivisa
no
API
DirectX 10, Shader 4.0
Consumo di corrente
13 Watt
tecnologia
65 nm
Data dell'annuncio
04.06.2008
Link alla pagina del produttore
http://www.nvidia.com/object/geforce_930...
v1.25
log 26. 23:12:26
#0 no ids found in url (should be separated by "_") +0s ... 0s
#1 not redirecting to Ajax server +0s ... 0s
#2 did not recreate cache, as it is less than 5 days old! Created at Tue, 26 Sep 2023 08:58:45 +0200 +0.001s ... 0.001s
#3 no comparison url found in template nbc.compare_page_1 needed +0.031s ... 0.032s
#4 start showIntegratedCPUs +0s ... 0.032s
#5 return log +0.013s ... 0.045s
Gpu Related Reviews Plugin
Recensioni Notebook con NVIDIA GeForce 9300M GS la scheda grafica
Lenovo Thinkpad SL400 Notebook: Recensione
New in Business. Giusto in tempo per il lancio della nuova piattaforma Intel Montevina, Lenovo mostra un nuovo prodotto. Mentre le serie T, R ed X hanno un aspe...
Intel Core 2 Duo P8400 | NVIDIA GeForce 9300M GS | 14.10" | 2.6 kg
Sony Vaio VGN-Z21VN/X: Intel Core 2 Duo P9500, 13.10", 1.5 kg
Recensioni esterne » Sony Vaio VGN-Z21VN/X
Sony Vaio VGN-Z31ZN: Intel Core 2 Duo P9600, 13.10", 1.5 kg
Recensioni esterne » Sony Vaio VGN-Z31ZN
Sony Vaio VGN-Z51MRG/B: Intel Core 2 Duo P8700, 13.10", 1.5 kg
Recensioni esterne » Sony Vaio VGN-Z51MRG/B
Sony Vaio VGN-Z17GN : Intel Core 2 Duo P9500, 13.10", 1.5 kg
Recensioni esterne » Sony Vaio VGN-Z17GN
Sony Vaio VGN-Z790: Intel Core 2 Duo P8800, 13.10", 1.5 kg
Recensioni esterne » Sony Vaio VGN-Z790
Sony Vaio VGN-Z890: Intel Core 2 Duo P8800, 13.10", 1.5 kg
Recensioni esterne » Sony Vaio VGN-Z890
Lenovo Thinkpad SL500: Intel Core 2 Duo P8400, 15.40", 2.9 kg
Recensioni esterne » Lenovo Thinkpad SL500
MSI Megabook PX600: Intel Core 2 Duo P8600, 15.40", 3 kg
Recensioni esterne » MSI Megabook PX600
Asus F70SL: Intel Core 2 Duo T6400, 17.30", 3.9 kg
Recensioni esterne » Asus F70SL