Spieleleistung
Alle Tests sind ungefähre Benchmarkwerte (je nach eingesetzter CPU können sie stark abweichen) und wurden ohne Antialiasing (AA) und ohne Anisotrope Filter (AF) durchgeführt.
Company of Heroes: 1440x900, hohe Details -> spielbar (für komplett flüssiges Spiel ev Auflösung und Details reduzieren)
F.E.A.R.: 1024x768, CPU max, GPU max: 24-40 fps -> spielbar - voll spielbar
Command and Conquer 3 (C&C 3): 1024x768, hohe Details: 30 fps ->flüssig spielbar
Supreme Commander: 1024x768, hohe Details: 16-44 fps, gut spielbar

Colin McRae Dirt: 1024x768: 20 fps -> nicht flüssig spielbar, bei geringerer Detail-Einstellung flüssig spielbar.
S.T.A.L.K.E.R.: 1024x768, Maximum Quality: 18 fps durchschnittlich -> nicht flüssig spielbar. Bei geringerer Qualität flüssig spielbar
Anno 1701: 1024x768, hohe Details: 48 fps -> voll spielbar
Doom 3: 1024x768, Details: Ultra: 67 fps -> voll spielbar
Age of Empires 3: 1024x768, hohe Details (ausser Footprints), Skirmish zu 8t: 30-40 fps -> voll spielbar
Quake 3 Arena: 1024x768, max Details: 236.5 fps -> voll spielbar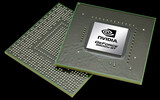 La scheda grafica Nvidia GeForce 9600M GT per portatili supporta DirectX10. Successore del modello 8600 GT sfrutta la tecnologia 65nm che la "overclocka". Questo la rende più performante mantenendo il medesimo consumo di corrente. Inoltre alcune caratteristiche sono state migliorate come il Pure Video HD processore video (VP3) e HybridPower per risparmiare corrente.
Assieme con la scheda grafica integrata Nvidia 9100 G, la 9600M G, la 9600M GT supporta Hybrid-SLI (solo HybridPower). HybridPower permette di scegliere tra la scheda integrata o la scheda grafica dedicata, se le performance o il risparmio energetico lo richiedono. Questo funziona solo con Windows Vista. Al momento l'utente per passare da una scheda grafica ad un altra deve usare un programma. Nel futuro Nvidia fare fare tutto il lavoro alla scheda grafica lasciando comunque all'utente di scegliere. GeForceBoost non è supportato da questa scheda, e non ci saranno incrementi di prestazioni.
Come la 8600M GT, la 9600 GT ha 32 processori stream che si occupano del vertex- e pixel-shader.
Le prestazioni si attestano su valori tra quelli ottenuti dalla 9500M GS e la 8700 GT (dipende se si utilizzano GDDR2 o GDDDR3)
Confrontandola con le schede grafiche per sistemi desktop, la 9600 GT è simile alla Geforce 9500GT (anche lei discende dal core G96). La versione desktop 9600 GT ha un bus di memoria da 256bit e quindi molto più veloce.
| | |
| --- | --- |
| GeForce 9600M Serie | |
| Nome in codice | NB9P-GS |
| Architettura | G9x |
| Pipelines | 32 - unified |
| Velocità del core | 500 MHz |
| Velocità de Shader | 1250 MHz |
| Velocità della memoria | 800 MHz |
| Larghezza del bus di memoria | 128 Bit |
| Tipo di memoria | GDDR2, GDDR3 |
| Max. quantità di memoria | 1024 MB |
| Memoria condivisa | no |
| API | DirectX 10, Shader 4.0 |
| Consumo di corrente | 23 Watt |
| Transistor Count | 314 Milioni |
| tecnologia | 65 nm |
| Caratteristiche | PCI-E 2.0, 1250 MHz Shader Taktung, 400 MHz Speichertaktung bei GDDR2, 800 MHz bei GDDR3, PureVideo HD Technologie (VP3), Hybrid SLI mit HybridPower (mit aktuellen nVidia Chipsätzen). |
| Dimensione del portatile | misura media |
| Data dell'annuncio | 04.06.2008 |
| Link alla pagina del produttore | http://www.nvidia.com/object/geforce_960... |
v1.17
log 15. 00:20:23
#0 no ids found in url (should be separated by "_") +0s ... 0s
#1 not redirecting to Ajax server +0s ... 0s
#2 did not recreate cache, as it is less than 5 days old! Created at Wed, 14 Sep 2022 14:03:39 +0200 +0.001s ... 0.001s
#3 no comparison url found in template nbc.compare_page_1 needed +0.031s ... 0.032s
#4 no comparison url found in template nbc.compare_page_1 needed +0s ... 0.032s
#5 start showIntegratedCPUs +0s ... 0.032s
#6 return log +0.009s ... 0.041s
Gpu Related Reviews Plugin
Recensioni Notebook con NVIDIA GeForce 9600M GT la scheda grafica
Acer Aspire 5930G-864G32MN: Intel Core 2 Duo P8600, 15.40", 3 kg
recensione » Recensione Acer Aspire 5930G Notebook
Acer Aspire 6930G: Intel Core 2 Duo T5800, 16.00", 3.2 kg
recensione » Recensione Acer Aspire 6930G Notebook
Apple MacBook Pro 15: Intel Core 2 Duo T9400, 15.40", 2.5 kg
recensione » Recensione Apple MacBook Pro 15" v5 2008 (Guscio Unibody, 9600M GT + 9400M)
HP Pavilion dv5-1032eg: Intel Core 2 Duo P7350, 15.40", 2.7 kg
recensione » Recensione breve HP Pavilion dv5-1032eg Entertainment Notebook
HP Pavilion dv7-1050eg: Intel Core 2 Duo T9400, 17.10", 3.5 kg
recensione » HP Pavilion dv7-1050eg / 1045eg Notebook: recensione
MSI Megabook GX620: Intel Core 2 Duo P9500, 15.40", 2.7 kg
recensione » Recensione MSI Megabook GX620
Samsung Aura P8400 Madril: Intel Core 2 Duo P8400, 15.40", 2.7 kg
recensione » Recensione utente: Samsung R560 Madril Notebook
Zepto Mythos A15: Intel Core 2 Duo P9500, 15.40", 3.1 kg
recensione » Recensione Portatile Zepto Mythos A15
Acer Aspire 8730G: Intel Core 2 Duo T6400, 18.40", 4.1 kg
Recensioni esterne » Acer Aspire 8730G
Apple MacBook Pro 15: Intel Core 2 Duo T9400, 15.40", 2.5 kg
Recensioni esterne » Apple MacBook Pro 15
Apple MacBook Pro 15 inch 2009-06: Intel Core 2 Duo P8400, 15.40", 2.5 kg
Recensioni esterne » Apple MacBook Pro 15 inch (06/09)
Apple Macbook Pro 17 inch 2009-03: Intel Core 2 Duo T9550, 17.00", 3 kg
Recensioni esterne » Apple Macbook Pro 17" 2009-3
Fujitsu Amilo Xi3670: Intel Core 2 Quad Q9000, 18.40", 4 kg
Recensioni esterne » Fujitsu Amilo Xi3670
HP Pavilion HDX16: Intel Core 2 Duo P8700, 16.00", 3.2 kg
Recensioni esterne » HP Pavilion HDX16
HP Pavilion HDX18 : Intel Core 2 Duo P8600, 18.00", 4.5 kg
Recensioni esterne » HP Pavilion HDX18
MSI Megabook GX620: Intel Core 2 Duo P9500, 15.40", 2.7 kg
Recensioni esterne » MSI Megabook GX620
Sony Vaio VGN-AW180Y/Q : Intel Core 2 Duo T9600, 18.40", 3.9 kg
Recensioni esterne » Sony Vaio VGN-AW180Y/Q
Sony Vaio VGN-AW41MF/H: Intel Core 2 Duo P7450, 18.40", 3.9 kg
Recensioni esterne » Sony Vaio VGN-AW41MF/H