NVIDIA GeForce GT 415M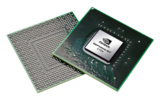 La NVIDIA GeForce GT 415M è una veloce scheda grafica di fascia media per portatili presentata nel 2010. Si basa sul core GF108, che si rifà all'architettura Fermi. Di conseguenza supporta DirectX 11 ed OpenGL 4.0. Diversamente dalla GT 420M, la scheda sfrutta solo 48 dei 96 shader cores. Pertanto le prestazioni dovrebbero essere nettamente inferiori alla GT 420M (in quanto hanno entrambe lo stesso clock rate). Tuttavia, Nvidia comunque inserisce la scheda nella classe performance (la GeForce 310M è Mainstream). Come memoria grafica, la GT 415M supporta solo (G)DDR3 e non GDDR5.

Architettura GF108

Il core GF108 della GT 415M deriva dal core GF100 della GeFore GTX 480M ed offre 96 shaders ed un bus di memoria a 128 Bit per DDR3. Ad eccezione dei controllers di memoria il GF108 può di base essere considerato come un GF106 dimezzato. Di conseguenza, l'architettura non è paragonabile ai vecchi cores GT215 (es., GeForce GTS 350M) o GT216 (es., GeForce GT 330M). A differenza della GF100 i più piccoli core GF104, GF106, and GF108 non solo sono stati rimpiccioliti, ma anche notevolmente modificati. Diversamente dalla GF100, che è stata realizzata per applicazioni professionali, questi chips hanno come target il mercato consumer. Questi sfruttano più shaders (3x16 invece di 2x16), più unità texture (8 invece di 4) ed SFUs per lo streaming multi-processor (SM). Poiché ci sono ancora solo 2 warp schedulers (contro 3 shader groups), Nvidia ora utilizza una esecuzione superscalare per utilizzare il più elevato numero di shaders per SM nel modo più efficiente possibile. In teoria, gli shaders possono di conseguenza essere utilizzati in modo più efficiente e le prestazioni per core sono migliorate. Tuttavia, nella peggiore delle ipotesi le prestazioni possono anche essere peggiori rispetto al GF100 (ed ai suoi predecessori). La protezione di memoria ECC, che è importante per le applicazioni professionali, manca del tutto e l'hardware FP64 è stato rimpicciolito (solo 1/3 degli shader gestiscono FP64 e di conseguenza solo 1/12 delle prestazioni dell'FP32). A causa di questi tagli, le dimensioni dello SM sono cresciute solo del 25% a dispetto del numero maggiore di shaders e dei warp schedulers con capacità superscalare. A causa della differenza di architetture degli shader e del clock più elevato dello shader domain, le prestazioni del core non possono essere direttamente confrontate con i cores AMD della serie Radeon 5000 (es. HD 5650).

Informazioni dettagliate sull'architettura GF104 (e di conseguenza anche GF106 e GF108) possono essere trovate nell'articolo desktop GTX 460 by Anandtech.

Prestazioni

Poiché la GeForce GT 415M si avvale della nuova architettura, le prestazioni non sono paragonabili con i chip più datati con simile core count. Poiché la GeForce GT 420M ha mostrato prestazioni simili alla vecchia GT 330M (nel nostro test con un prototipo), le prestazioni della GT 415M dovrebbero essere inferiori, approssimativamente al livello di una GeForce GT 320M / Mobility Radeon HD 4570.

Features

Una novità dei chips GF104/106/108 è il supporto del Bitstream HD Audio (Blu-Ray) output via HDMI. Come la Radeon HD 5850, la GT 415M può trasferire Dolby True HD e DTS-HD bitstream-wise senza perdite di qualità ad un ricevitore HiFi.

The GT415M offre la tecnologia PureVideo HD per la decodifica video. Il Processore video 4 incluso (VP4) supporta il feature set C e di conseguenza la GPU è in grado di effettuare la completa decodifica di MPEG-1, MPEG-2, MPEG-4 Part 2 (MPEG-4 ASP - es., DivX o Xvid), VC-1/WMV9, ed H.264 (VLD, IDCT, Motion Compensation, e Deblocking).

Inoltre, la GPU riesce a decodificare due streams 1080p simultaneamente (es. il Picture-in-Picture Blu-Ray).

Mediante il supporto CUDA, OpenCL, e DirectCompute 2.1 la GeForce GT 415M può essere di aiuto nei calcoli generali. Ad esempio, il processore stream può codificare molto più velocemente i video rispetto a quanto riesce a fare una veloce CPU. Inoltre i calcoli fisici possono essere effettuati dalla GPU utilizzando PhysX (es. supportato da Mafia 2 o Metro 2033).

Senza carico, il chip ha un clock di 50/100/135 MHz (chip/shader/memoria) in 2D e rispettivamente 200/400/325 in modalità 3D per risparmiare energia. Inoltre la serie 400M supporta Optimus per uno switch automatico tra la scheda grafica integrata Intel e la GPU Nvidia. Tuttavia, i produttori di portatili devono implementarla e non può essere aggiornata.
GeForce GT 400M Serie

Nome in codice
N11P-GV
Architettura
Fermi
Pipelines
48 - unified
Velocità del core
500 MHz
Velocità de Shader
1000 MHz
Velocità della memoria
800 MHz
Larghezza del bus di memoria
128 Bit
Tipo di memoria
(G)DDR3
Memoria condivisa
no
API
DirectX 11, Shader 5.0
tecnologia
40 nm
Caratteristiche

Optimus Support, PureVideo HD VP4, Blu-Ray 3D, Bitstream HD Audio, CUDA, DirectCompute, OpenCL, OpenGL 4.0, DirectX 11

Dimensione del portatile
misura media
Data dell'annuncio
03.09.2010
Link alla pagina del produttore
http://www.nvidia.com/object/product-gef...
Benchmark
3DMark 11 - 3DM11 Performance Score