SSD NVMe Kingston A2000 M.2 Benchmarked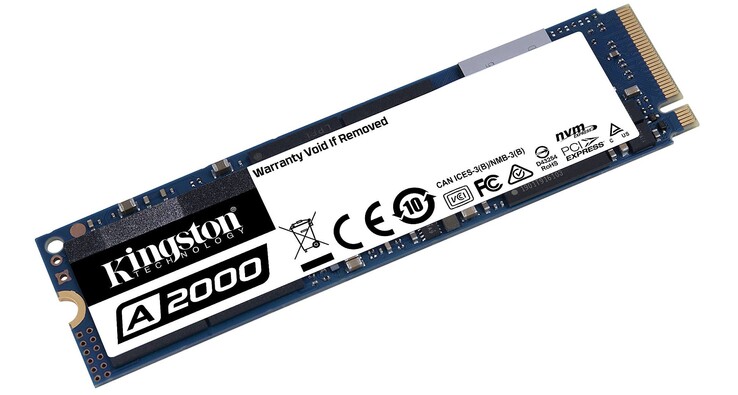 Gli SSD NVMe hanno lentamente sostituito gli SSD SATA sulla maggior parte dei computer portatili. Sfortunatamente, le unità SSD NVMe entry-level come SK Hynix PC401 o Toshiba BG3 non offrono le prestazioni delle unità SSD NVMe più note come Samsung PM981 o WD SN720. Le velocità di scrittura sequenziale per queste economiche unità NVMe possono talvolta essere inferiori a 500 MB/s risultando più lente di un'unità SSD SATA III standard.

Kingston spera di invertire questa tendenza con la serie A2000 di unità SSD NVMe M.2 2280. Queste unità sono dotate di crittografia automatica con una garanzia limitata di base di 5 anni e sono già disponibili su Amazon in soluzioni da 250 GB, 500 GB e 1 TB, con un range da 40 a 130 USD. Si consiglia di consultare la pagina ufficiale del prodotto qui per saperne di più sulle specifiche della serie A2000.
| Capacità | Lettura sequenziale massima (MB/s) | Scrittura sequenziale massima (MB/s) | Lettura IOPS | Scrittura IOPS |
| --- | --- | --- | --- | --- |
| 250 GB | 2000 | 1100 | 150K | 180K |
| 500 GB | 2200 | 2000 | 180K | 200K |
| 1 TB | 2200 | 2000 | 250K | 220K |
Sistema di test
Il nostro sistema di test è l'Intel NUC8i7BEH in grado di ospitare un'unità SATA III primaria da 2,5 pollici e un'unità SSD secondaria M.2 PCIe x4. Anche se l'unità SSD Kingston A2000 si installa senza problemi, la confezione viene fornita senza viti per fissare l'unità al suo posto. Tenete presente che la maggior parte dei computer portatili non include nemmeno la vite adatta. Almeno Kingston include in ogni confezione una chiave di attivazione gratuita per Acronis True Image HD.
Consulta la nostra recensione sul Intel NUC8i7BEH per saperne di più sul mini PC.
AS SSD & CrystalDiskMark
Kingston pubblicizza velocità di lettura e scrittura sequenziale di 2200 MB/s e 2000 MB/s, rispettivamente, e i risultati di CrystalDiskMark confermano essenzialmente le dichiarazioni. Queste velocità sono paragonabili al più costoso Samsung PM981 che si trova su molti Ultrabooks di punta.

La lettura sequenziale di blocchi di piccole dimensioni Q32T1 è forse l'aspetto più debole del Kingston con circa 2300 MB/s rispetto ai 3000 MB/s o più su Asura Genesis, Samsung PM981, o Toshiba XG6.
Kingston A2000


Kingston SA2000M81000G

Intel NUC8i7BEH Asura NVMe SSD


Asura Genesis Xtreme NVMe M.2 SSD 1 TB

Dell XPS 15 7590 9980HK GTX 1650


Toshiba XG6 KXG60ZNV1T02

Dell G7 7590


Toshiba BG3 KBG30ZMS256G

Asus ROG G703GXR


Samsung SSD PM981 MZVLB512HAJQ

Asus ZenBook Pro Duo UX581GV


Samsung SSD PM981 MZVLB1T0HALR

Dell Latitude 5300


SK Hynix PC401 512GB M.2 (HFS512GD9TNG)

CrystalDiskMark 5.2 / 6

14%

-14%

-65%

-16%

-19%

-30%

Write 4K

193.7

Read 4K

70.97

Write Seq

2044

Read Seq

1992

Write 4K Q32T1

623

Read 4K Q32T1

703.6

Write Seq Q32T1

2173

Read Seq Q32T1

2279

Write 4K Q8T8

1071.5

Read 4K Q8T8

1167

AS SSD

17%

-7%

-136%

-17%

-9%

-26%

Score Total

3413

Score Write

1385

Score Read

1321

Access Time Write *

0.075

Access Time Read *

0.024

4K-64 Write

1041.08

4K-64 Read

1097.69

4K Write

150.57

4K Read

61.02

Seq Write

1935.74

Seq Read

1622.45

Media totale (Programma / Settaggio)
* ... Meglio usare valori piccoli
ATTO
I valori di lettura più bassi dei blocchi più piccoli di cui sopra diventano più evidenti quando si utilizza ATTO che testa le prestazioni su una gamma più ampia di dimensioni dei blocchi. Le velocità di lettura superano i 2 GB/s da 64 KB e oltre, rispetto agli oltre 3 GB/s di Asura Genesis o del Samsung 970 EVO Plus.
Compressione dati
L'unità Kingston è in grado di mantenere valori di lettura e scrittura più stabili per tutta la durata del test rispetto al Samsung 970 EVO Plus, ad eccezione di un breve calo a circa 1330 MB/s, come dimostrano i risultati riportati di seguito. Questo calo si è verificato di nuovo nelle successive prove.
Temperature
HWiNFO rivela una temperatura in idle di 35 °C rispetto ai soli 21 °C dell'SSD M.2 Asura Genesis che è dotato di un dissipatore di calore. Lo stress CrystalDiskMark fa sì che la temperatura massima dell'SSD di 48 °C sia più calda di quella registrata sull'Asura Genesis di alcuni gradi. Tenete presente che anche l'Asura è l'unità più veloce.
Giudizio Complessivo
The popular 1 TB Samsung PM981 retails for closer to $200 USD compared to just $130 for the 1 TB Kingston A2000. If you want higher performance-per-dollar, then the Kingston A2000 will be your best bet. This is a drive that performs nearly as well as an enthusiast offering but at a more affordable price point.
Sequential read rates top out at about 2 GB/s compared to 3 GB/s on pricier drives, but the difference is actually marginal during day-to-day workloads. Super enthusiasts who do a lot of editing or gaming where very large file sizes are often involved may want to spring for something higher than the Kingston in the long run. For everyone else, this drive will do the trick and have longer legs than those cheaper SK Hynix or Toshiba BG3 alternatives.