Recensione Completa dello Smartphone LG V30
Prima impressione. Con l'LG V30, i Coreani ora mostrano un vero smartphone high-end, che offre potenti funzioni video ed una dual camera migliorata. LG ha preso i considerazione le critiche al G6 ed offre acnhe la ricarica wireless ed un quad-DAC audio.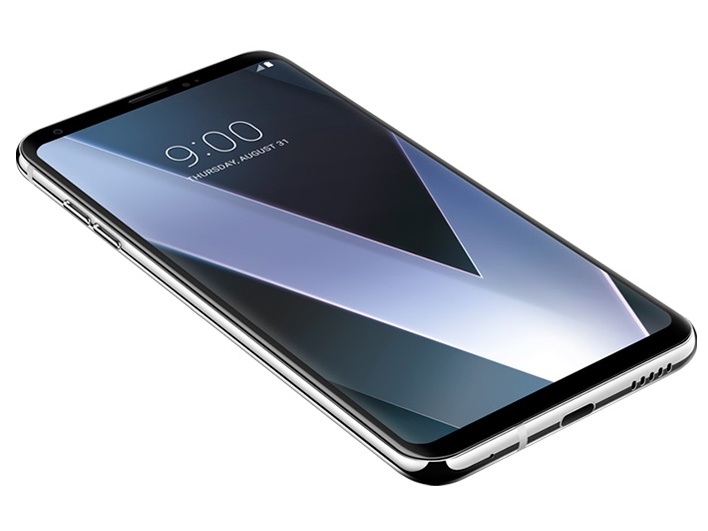 Per la recensione originale in Tedesco, guardate qui.
Dopo un anno di interruzione, LG ora riporta in Europa la sua serie V. Le seconda serie di ammiraglie ora monta anche un attuale SoC premium Qualcomm e pertanto offre performance superiori in tutte le aree. E' un netto vantaggio, specialmente per il modulo comunicazioni. In aggiunta al Gigabit LTE, ci saranno anche Bluetooth 5.0, sebbene bisognerà attendere l'update Android 8.0 Oreo che dovrebbe arrivare quest'anno. Con l'81%, il rapporto della superficie del display è molto buono.
L'LG V30 offre 4 GB di memoria di lavoro e 64 GB di spazio interno. In aggiunta, dovrebbe esserci un V30+, con 128 GB di spazio. Entrambi i modelli possono essere potenziati con una scheda opzionale microSD. La dual camera è stata aggiornata ed ora offre una apertura superiore da f/1.6, che dovrebbe consentire scatti ottimi, specialmente con poca luce. La risoluzione della fotocamera principale pure è stata aumentata a 16 MP. In termini di display, LG ora usa la tecnologia in-house OLED, dotando il V30 di un pannello FullVision in formato 18:9 (2:1). In aggiunta al sensore per le impronte, il V30 offre anche riconoscimento facciale e vocale per sbloccare lo smartphone.
L'LG V30 deve confrontarsi con tutti gli altri top smartphones. Tra questi l'HTC U11, l'Huawei P10 Plus, il Sony Xperia XZ Premium, lo OnePlus 5, l'Honor 9 e l'iPhone 7 Plus. In termini di prezzo e dimensioni, il Samsung Galaxy Note 8 e l'Huawei Mate 9 in particolare sono i concorrenti più simili.
Il nostro modello V30 è ancora un prototipo, con software ed hardware non nella versione Potrebbero esserci delle modifiche fino a Novembre, quando arriverà sul mercato.
Schermo
6 pollici 2:1, 2880 x 1440 pixel 537 PPI, capacitive touchscreen, multitouch dieci punti, FullVision QHD+ In-Cell Touch Display, OLED, HDR10, lucido: si
Harddisk
64 GB UFS 2.1 Flash, 64 GB
, 50.09 GB libera
Porte di connessione
1 USB 2.0, Connessioni Audio: porta combinata microfono/cuffia, Lettore schede: microSD fino a 2TB (SDHC, SDXC), 1 Lettore impronte digitali, NFC, Sensore luminosità, Sensori: accelerazione, prossimità, spettro colore, e sensori g, bussola, barometro, riconoscimento vocale e facciale, OTG, Wifi Direct
Rete
802.11 a/b/g/n/ac (a/b/g/n/ac), Bluetooth 5.0, GSM/GPRS/Edge (850, 900, 1800 and 1900 MHz), UMTS/HSPA+ (band 1, 2, 3, 4, 5 and 8), LTE Cat. 16 (band 1, 2, 3, 4, 5, 7, 8, 12, 13, 17, 20, 28, 38), LTE, GPS
Dimensioni
altezza x larghezza x profondità (in mm): 7.3 x 151.7 x 75.4
Batteria
12.5 Wh, 3300 mAh polimeri di litio, Quick Charge 3.0, ricarica Qi wireless
Sistema Operativo
Android 7.1 Nougat
Camera
Fotocamera Principale: 16 MPix (71°, f/1.6, 1.0 μm, OIS, UHD video) + 13 MPix (120° wide-angle, f/1.9, 1.0 μm, OIS)
Fotocamera Secondaria: 5 MPix (82/90°, f/2.2, 1.12 μm, Full-HD video)
Altre caratteristiche
Casse: cassa mono, Tastiera: virtuale, Schnellladegerät, USB-Kabel, B&O Play Headset, LG UX 6.0+, 24 Mesi Garanzia, Certificazione IP IP68, tests 14 MIL-STD-810G superati, radio FM, Hifi quad-DAC , senza ventola
Peso
158 gr, Alimentazione: 73 gr
Nonostante l'ampio display da 6", l'LG V30 è molto maneggevole e compatto. LG specifica le stesse dimensioni di uno smartphone convenzionale da 5.5", come si vede chiaramente anche dal nostro grafico di confronto delle dimensioni. Con appena 158 grammi (~5.6 oz), è sorprendentemente leggero e piatto. Grazie al Corning Gorilla Glass 5 arrotondato, lo smartphone si tiene comodamente in mano, ma attira le ditate come una calamita.
La costruzione dell'LG V30 non dà motivo di critiche. Gli spazi tra i materiali sono precisi, anche se si notano. Sono stretti ed omogenei. Lo slot per le schede è in linea con il case e accetta schede Nano-SIM e microSD. Lo smartphone resiste alle torsioni e gli scricchiolii sono minimi. Grazie alla tecnologia OLED, anche facendo molta pressione sul case o sul vetro frontale non si notano effetti sui contenuti.
In linea con lo standard IP68, il case resiste a polvere ed acqua. In aggiunta, ha resistito a 14 tests dello standard militare MIL-STG-810G senza subire danni. Nell'LG V20, era possibile sostituire la batteria, ma il produttore ha modificato la situazione nel nuovo modello. L'LG V30 p disponibile in Nero Aurora (nero), Argento Cloud (argento), Blu Marocco (blu), e Viola Lavanda (lavanda), sebbene al momento, l'ultima variante non è ancora disponibile in Germania.
Software
L'attuale Google Android 7.1.2 Nougat è usato come sistema operativo dell'LG V30, che è aggiornato alle patches di settembre 2017 al momento del test. L'interfaccia utente è molto simile a quella dell'LG G6, ma in aggiunta offre una floating bar. Diversamente dall'LG V10 e V20, il V30 non ha scorciatoie aggiuntive. Pertanto, il produttore ha compensato tramite software. La floating bar può essere spostata liberamente sullo schermo.
Ci sarà un update ad Google Android 8.0 Oreo sicuramente, ma non abbiamo ancora ricevuto una risposta sui temi di rilascio. Forse, ci sarà entro la fine dell'anno.
Fotocamere
In termini di fotocamere, LG usa dotazioni simili a quelle dell'LG G6. La fotocamera frontale ha una risoluzione di appena 5 MP e riesce a scattare selfies con angolazioni da 87° o 90°. I videos possono essere realizzati in Full HD.
La fotocamera principale è una soluzione dual. Tuttavia, diversamente dal modello G, entrambe le lenti non hanno risoluzione 13-MP, ma la lente principale ha 3 Megapixels aggiuntivi. Inoltre, le lenti non sono più in plastica, ma in vetro, producendo meno distorsioni. La seconda fotocamera ha lenti grandangolari (127°). Entrambe le fotocamere ora hanno stabilizzatori ottici dell'immagine. Tuttavia, le dimensioni dei pixel del sensore sono ridotti di 1.0 μm, che non aiuta le prestazioni in scarsità di luce nonostante l'ampia apertura da f/1.6. I primi tests mostrano immagini abbastanza buone nonostante parliamo di un prototipo, ma al buio i dettagli sono sgranati. Speriamo in prestazioni migliori nella versione finale. Tuttavia, lo smartphone nel complesso gestisce molto bene la scarsità di luce.
LG enfatizza anche la funzione video del V30, che è stato trattato come extra rispetto al G6. Con i filtri Cine-Video potete aggiungere un'atmosfera alle immagini e con la funzione point-zoom potete scegliere un'area dell'immagine verso cui zoommare lentamente. Questa funzione va abbastanza bene.
L'LG V30 ha un ampio display da 6,0" OLED, che si basa sulla tecnologia LG FullVision del settore TV. Come con l'LG G6, è realizzato in formato 2:1 pertanto meno ampio rispetto ad un 16:9 convenzionale. La risoluzione di 2880x1440 pixels consente una densità pixel molto alta ed un display molto definito.
La nostra prima impressione è molto positiva. Solo all'aperto, il pannello è nettamente più scuro al sole rispetto ai competitors Apple o Samsung. Vedremo meglio quando ci sarà la versione definitiva.
All'interno dell'LG V30 c'è un Qualcomm Snapdragon 835, che attualmente è il SoC più veloce di questo produttore. A questo si aggiungono 4 GB di memoria di lavoro e 64 GB di spazio flash. L'Adreno 540 integrata si occupa dei calcoli grafici.
I primi benchmarks non offrono sorprese. Sebbene il V30 non produca risultati top, le performance sono tipiche di un dispositivo di questa classe con AnTuTu e Geekbench.
La variante standard dell'LG V30 monta 64 GB UFS-2.0 di spazio, e chi sceglierà la V30+ avrà 128 GB.
La velocità è sorprendentemente elevata ed offre valori molto buoni per questa classe. Solo gli smartphones con UFS 2.1 sono anche più veloci.
LG V30
LG G6
Samsung Galaxy S8 Plus
Huawei Mate 9
Sony Xperia XZ Premium
AndroBench 3-5

8%

28%

-14%

-1%

Sequential Write 256KB SDCard

47.2

53.33 (Toshiba Exceria Pro M401)

13%

57.24 (Toshiba Exceria Pro M401)

21%

29.53 (Toshiba Exceria Pro M401)

-37%

33.31 (Toshiba Exceria Pro M401)

-29%

Sequential Read 256KB SDCard

62.8

77.61 (Toshiba Exceria Pro M401)

24%

71.12 (Toshiba Exceria Pro M401)

13%

53.97 (Toshiba Exceria Pro M401)

-14%

36.79 (Toshiba Exceria Pro M401)

-41%

Random Write 4KB

10.21

Random Read 4KB

78.17

Sequential Write 256KB

193.22

Sequential Read 256KB

669.48
Consumi energetici
La batteria dell'LG V30 offre 3300 mAh, con la stessa dimensione di quella dell'LG G6. Grazie al pannello OLED ed al SoC più efficiente, ci aspettiamo un'autonomia maggiore nonostante il pannello più grande.
Ci sono anche Quick Charge 3.0 e ricarica wireless (Qi). Secondo LG, occorrono 110 minuti per una ricarica completa con il caricatore. Il 50% dovrebbe essere raggiunto dopo 36 minuti. La ricarica wireless è più lunga. In questo caso occorrono 55 minuti per ricaricare metà batteria.
Con l'LG V30, i Coreani hanno fatto un bello sforzo, realizzando uno smartphone che in tanti già si auguravano di vedere al MWC. Ci sono tutte le features che mancavano all'LG G6 per essere un prodotto high-end: un SoC top, un chip audio quad-DAC, e ricarica wireless. In aggiunta, ora c'è un display OLED, sebbene non convinca ancora all'aperto. Apparentemente LG ha rinunciato ad una maggiore luminosità tramite sensore come abbiamo visto sul Samsung Galaxy S8, e molti altri dispositivi.
In termini di qualità e design, l'LG V30 non mostra alcuna pecca, con una buona scelta di colori e un ottimo formato di superficie del display. Chiunque prende questo smartphone in mano per la prima volta rimane sorpreso dalla leggerezza.
Il software è ancora un Android 7.1, ma un update all'8.0 Oreo è in arrivo. Sebbene il nostro dispositivo di test sia un prototipo, il sistema è silenzioso e fluido. La connessione USB è veloce, ma sfortunatamente offre solo standard di trasferimento 2.0 e non ci sono uscite display via cavo.
Le feature core, la fotocamera, fa una buona impressione ed è stata ulteriormente ottimizzata. Il nostro giudizio iniziale è abbastanza positivo, e dopo il test finale, l'LG V30 potrebbe diventare un vincitore. Non appena riceveremo un modello di test definitivo da LG, completeremo l'analisi. A novembre, il V30 sarà disponibile per un prezzo raccomandato di 899 Euro in Europa (~$1070; forse $749 negli USA).
Pricecompare