ISE 2020 | Samsung presenta un gigantesco display da 583 pollici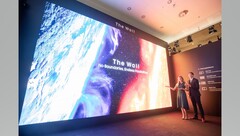 Durante la manifestazione, l'azienda ha annunciato nuovi display appartenenti alla gamma "The Wall" dedicati all'utilizzo commerciale. La nuova versione, da 583 pollici, sostituisce il precedente modello da 437 pollici presentato in precedenza.
Presentato l'anno scorso, The Wall Luxury garantisce un'esperienza visiva senza pari grazie alla risoluzione di 8K su diagonale di 292 pollici. Il display adotta l'inedita tecnologia microLED presentata da Samsung nel corso della precedente edizione ISE 2019. Disponibili numerose combinazioni in termini di configurazione, aspetto e naturalmente risoluzione.
Quest'anno Samsung, durante la kermesse, ha introdotto il modello "The Wall Business" destinato ad un'ampia varietà di applicazioni commerciali: dalle sale di controllo fino ai centri di trasmissione e progettazione. The Wall for Business presenta un'ampia gamma di soluzioni configurabili con diverse dimensioni e personalizzabili. Allo stato attuale l'azienda offre due modelli da 4K (219 e 292 pollici) e due modelli da 8K (437 e 583 pollici, il più grande mai presentato).
The Wall for Business sarà disponibile a livello globale a partire dai prossimi giorni.