Oltre 100mila giocatori online su Steam per Doom Eternal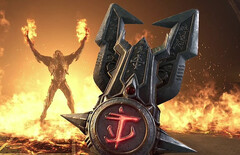 Sono passati alcuni giorni dal lancio ufficiale di Doom Eternal e i numeri registrati sembrano indicare un successo ancora maggiore rispetto al suo predecessore. Durante lo scorso fine settimana, Doom Eternal ha raggiunto un numero di giocatori tre volte superiore rispetto a Doom 2016, superando molti titoli presenti nel catalogo di Bethesda.
Durante le prime giornate, Doom Eternal ha raggiunto un picco massimo di oltre 105mila giocatori contemporaneamente collegati su Steam, un record che riguarda esclusivamente gli utilizzatori di Steam e non di piattaforme differenti quali Bethesda o le console. Rispetto a Doom 2016 si è registrato un incremento di popolarità di circa tre volte: un risultato pazzesco e probabilmente inaspettato. Naturalmente è logico supporre che la recente quarantena imposta in numerosi stati per il Coronavirus possa aver in qualche modo favorito l'acquisto di questo titolo.
Diversi famosi titoli di Bethesda come Wolfenstein II: The New Colossus, The Evil Within 2, Dishonored 2 e Rage 2 non sono stati in grado di superare le 20mila connessioni simultanee su Steam. Secondo quanto riportato da KitGuru, Doom Eternal in UK avrebbe raggiunto i primi posti di vendita superando anche Animal Crossing di Nintendo, pubblicato lo stesso giorno del titolo di Id Software.
Doom Eternal è disponibile su Bethesda e Steam ad un prezzo di partenza di rispettivamente 69.99 e 59.99 Euro.