AMD smentisce: non è necessario Windows 10 Enterprise per utilizzare il processore Ryzen Threadripper 3990X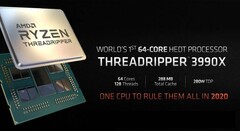 Nelle scorse settimane AMD ha presentato il potentissimo processore Ryzen Threadripper 3990X spinto da ben 64 core e 128 thread, capaci di far volare i risultati della CPU HEDT in qualsiasi ambito.
Alcune recensioni, come quella pubblicata dall'autorevole sito Anandtech, hanno evidenziato come non tutti i sistemi operativi Windows 10 fossero in grado di spremere a dovere questo processore. Nell'esaustiva recensione, pubblicata in seguito al lancio del processore, sono stati svolti numerosi test con Windows 10 Pro e Windows 10 Enterprise per sottolineare le differenze prestazionali dei due sistemi. Dai risultati emersi, Anandtech ha dimostrato come il sistema basato su Windows 10 Pro non fosse in grado di gestire correttamente tutti e 128 i thread a disposizione.
AMD, nelle scorse ore, ha precisato che non è necessario alcun sistema operativo specifico per sfruttare tutte le capacità e potenzialità del processore. Alcune fonti suggeriscono che l'ultimo aggiornamento di Windows 10 Pro abbia migliorato notevolmente la situazione rendendo il sistema operativo pienamente compatibile con Ryzen Threadripper 3990X. La build ufficialmente raccomandata da AMD è la 18362.592 (o successiva), tutte quelle precedenti potrebbero non consentire una corretta esecuzione dei test.
Di seguito vi riportiamo la comunicazione ufficiale pubblicata da AMD e, naturalmente, l'esaustiva recensione di Anandtech.
We wanted to clarify that AMD officially recommends Windows 10 Professional or Linux for the AMD Ryzen Threadripper 3990X. Higher editions/versions of Windows 10 confer no additional performance or compatibility benefits to the processor.

We do understand that this suggestion has been made in some articles, and our team is presently testing this further, but this is the official recommendation.