Recensione breve Killer Wireless-AC 1535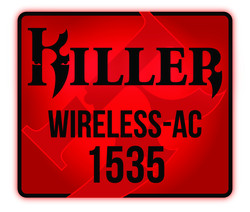 Killer Wireless AC-1535 ci ha impressionato con l'ottima velocità di trasferimento, una ampia copertura raggio e con funzioni intelligenti. Questa carta può essere facilmente raccomandata ai giocatori e utenti che sono alla ricerca di libertà fornita da caratteristiche come Advanced Stream Detect. Purtroppo, l'utente deve mettere a punto le impostazioni da solo. D'altra parte, le caratteristiche, come ad esempio, DoubleShot Pro, sono più una forzatura, in quanto è raro per una connessione Gigabit di essere pienamente utilizzata. Il trasferimento dati della killer 1535 nel MSI GT72 è leggermente superiore Intel AC 8260 in the T460s. Il dispositivo più veloce è ancora la soluzione 3x3 di Broadcom, che si trova nei prodotti Apple. Tuttavia, questa scheda non supporta MU-MIMO o Advanced Stream Detect. Intel AC 8260 in the T460s.
Nota: si tratta di una recensione breve, con alcune sezioni non tradotte, per la versione integrale in inglese guardate qui.