Intel Core i9-12900K benchmark leak puts the Alder Lake-S processor way beyond the capabilities of the AMD Ryzen 9 5950X while embarrassing the Core i9-11900K and Core i9-10900K ↺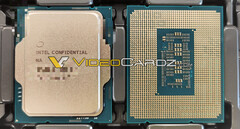 Intel's Alder Lake-S processors may not be here yet, but OneRaichu has provided an insight into how well the flagship model performs. For context, Intel is expected to release the Core i5-12600K, Core i7-12700K and Core i9-12900K, which will all feature performance Golden Cove cores and more power-efficient Gracemont cores. This combination will give the Core i9-12900K 16 cores and 24 threads, with the Core i5-12600K dropping to 10 cores.
Writing on Twitter, OneRaichu reports that the Core i9-12900K has scored 810 points in Cinebench R20's single-threaded benchmark and 11,600 points in the multi-threaded one. While these scores cannot be verified, OneRaichu has a solid reputation, to date. They also emphasise that this processor is a qualification sample (QS), so its performance may differ from retail units. Nonetheless, these scores put the Alder Lake-S well beyond its peers.
According to our database, a single-threaded score of 810 points puts the Core i9-12900K 25% ahead of the Core i9-11900K and 26% beyond the Ryzen 9 5950X. Additionally, the Core i9-12900K enjoys a 52% lead over the Core i9-10900K. The gap from the Core i9-10900K and Core i9-11900K to the Core i9-12900K in the multi-threaded benchmark is even larger at 82% and 93%, respectively.
The Core i9-12900K also outscores the Ryzen 9 5950X by 11%, which also has 16 cores. However, we should stress that the Core i9-12900K supposedly achieved these scores attached to an AIO. Similarly, OneRaichu states that the Core i9-12900K could consume over 200 W under full load; VideoCardz reports a PL2 value of 228 W, for reference.
Cinebench R20
CPU (Single Core)
Intel Core i9-12900K (QS) - leaked result


,

Intel Core i9-11900K


NVIDIA Titan RTX, i9-11900K, Intel Optane 905P 480GB 2.5

AMD Ryzen 9 5950X


NVIDIA Titan RTX, R9 5950X, Intel Optane 905P 480GB 2.5

AMD Ryzen 7 5800X


NVIDIA Titan RTX, R7 5800X, Intel Optane 905P 480GB 2.5

Intel Core i9-10900K


NVIDIA Titan RTX, i9-10900K, WDC PC SN720 SDAQNTW-512G

AMD Threadripper 2970WX, AMD Radeon RX Vega 64


RX Vega 64, TR 2970WX

CPU (Multi Core)
Intel Core i9-12900K (QS) - leaked result


,

AMD Ryzen 9 5950X


NVIDIA Titan RTX, R9 5950X, Intel Optane 905P 480GB 2.5

AMD Threadripper 2970WX, AMD Radeon RX Vega 64


RX Vega 64, TR 2970WX

Intel Core i9-10900K


NVIDIA Titan RTX, i9-10900K, WDC PC SN720 SDAQNTW-512G

AMD Ryzen 7 5800X


NVIDIA Titan RTX, R7 5800X, Intel Optane 905P 480GB 2.5

Intel Core i9-11900K


NVIDIA Titan RTX, i9-11900K, Intel Optane 905P 480GB 2.5