The Wonderful 101: Remastered e Divinity: OS si uniscono al catalogo di GeForce Now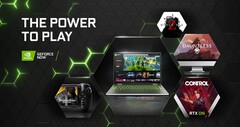 Come tutti i giovedi, il servivio di game streaming online si rinnova introducendo nuovi titoli disponibili per i videogiocatori. Questa settimana NVIDIA aggiunge ben 17 nuovi videogiochi tra cui The Wonderful 101: Remastered e Divinity: Original Sin Enhanced Edition.
Il servizio di game streaming di NVIDIA consente di fornire l'accesso ad un PC remoto e alle varie piattaforme da cui acquistare i giochi, pertanto l'aggiunta di nuovi titoli permette di sfruttare un precedente acquisto (eseguito su Steam, Origin, Epic Game Store etc) per utilizzarlo in streaming. Durante i mesi passati, numerosi produttori di videogiochi hanno deciso di abbandonare la piattaforma ma, nonostante questo aspetto, NVIDIA ha continuato nel suo intendo redendo sempre più maggiori titoli compatibili.
Con l'ultimo aggiornamento, l'esperienza di gioco è stata ottimizzata inserendo numerose patch risolutive. Questa settimana 17 nuovi giochi sono entrati a far parte del servizio, compresi quattro nuovi lanci su Steam: Observation, Rez Plz, Hunting Simulator 2 e The Wonderful 101: Remastered.
Ecco l'elenco completo dei nuovi giochi compatibili con il servizio di NVIDIA:
Observation
Rez Plz
Hunting Simulator 2
The Wonderful 101: Remastered
Amnesia: A Machine for Pigs
Divinity: Original Sin Enhanced Edition
Driftland: The Magic Revival
Furi
GUILTY GEAR Xrd -SIGN-
Jagged Alliance – Back in Action
Kingdom: Classic
Lords Of The Fallen
Might & Magic Heroes VII – Trial by Fire
Occupy White Walls
Syberia 3
Wargame: Airland Battle
X Rebirth
Ricordiamo che in aggiunta al piano Founders, NVIDIA prevede anche un servizio gratuito (free) che consente di accedere gratuitamente al servizio con un accesso standard (una breve attesa) e sessioni di gioco da massimo un'ora. Il profilo Founders, invece, prevede una quota di iscrizione di 5.49 Euro/mese, con un accesso più rapido ai server e sessioni di gioco limitate alle 6 ore. Il piano Founders, inoltre, offre l'accesso ai titoli RTX.