Abbiamo installato Genshin Impact sul tablet Android 10 più lento che potevamo trovare solo per vedere cosa sarebbe successo. Non è stato entusiasmante...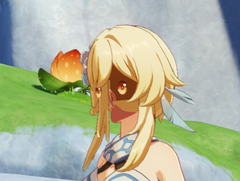 Genshin Impact è forse il nuovo gioco per cellulari più caldo in questo momento, avendo già incassato oltre 100 milioni di dollari durante la sua prima settimana di disponibilità. A differenza della maggior parte degli altri giochi per cellulari, il titolo è un mondo aperto e tentacolare, con lunghe distanze da percorrere sulla stessa linea di The Legend of Zelda: Breath of the Wild, che lo rende naturalmente uno dei giochi più impegnativi su qualsiasi dispositivo mobile.
Recentemente abbiamo provato a far girare il gioco su uno dei tablet Android più economici disponibili con la lenta GPU PowerVR GE8322 solo per vedere cosa sarebbe successo e i risultati non sono stati belli. Come mostrano gli screenshots qui sotto, i volti dei personaggi non riescono a caricarsi e l'acqua si illumina di un verde inquietante senza alcun motivo apparente. I pop-up di texture, i frame rate inferiori a 30, gli inputs ritardati e le pause improvvise durante la rotazione della fotocamera contribuiscono a rendere il gioco ingestibile. Riducendo tutte le impostazioni grafiche al minimo si risolvono i problemi facciali del personaggio, ma tutti gli altri problemi sopra citati rimangono.
Il modo migliore per giocare a Genshin Impact è indubbiamente su PC, dove i controlli sono più facili e i frame rates sono molto più stabili anche su una GPU sub-GeForce 1060. Gli utenti che insistono a giocare su smartphone o tablet, invece, avranno bisogno di hardware potente per evitare i bug visivi che potrebbero verificarsi su hardware più deboli.