Communication
The sole connectivity to the outside world consists of a RealTek RTL8821AE 802.11ac 1x1 combo module, which supports both 2.4 GHz and 5 GHz. Bluetooth 4.0 is on board as well. We had no issues with the reception strength and never had any problems or dropped connections during our time with the review model.
Accessories
Lenovo bundles both an AccuType wireless keyboard as well as a wireless mouse. Optional accessories include a joystick, striker, and e-dice, which directly interact with touchscreen or application/games. The joystick/striker combo (2 sets) sells for $50. Unfortunately, our review model did not come with the accessories, so we couldn't check out the functionality they provide.

Maintenance
According to the hardware manual, access to the hardware requires the removal of only two screws. Unfortunately, the back cover resisted our efforts to remove it and we stopped to avoid any damage.

Warranty
Lenovo offers a 12-month warranty against manufacturer's defects. At the time of writing, the online configurator did not allow us to choose longer or different warranty options.
PCMark 7 Score
2426 punti
PCMark 8 Home Score Accelerated v2
2010 punti
PCMark 8 Creative Score Accelerated v2
2143 punti
PCMark 8 Work Score Accelerated v2
2825 punti

Aiuto
3DMark 06 Standard
4136 punti
3DMark Vantage P Result
3218 punti
3DMark 11 Performance
785 punti
3DMark Ice Storm Standard Score
30261 punti
3DMark Cloud Gate Standard Score
3578 punti
3DMark Fire Strike Score
479 punti

Aiuto
Emissions
System Noise
Although the fan of the Horizon 2e is running at all times, the system is overall very quiet. We measured a maximum of 33.1 dB during idle, which is a bit higher than both the Dell and the Sony. The whooshing of the hard drive is more audible than the fan under normal idle conditions, however. Under load, the system does not get much louder and we measured a maximum of only 34.8 dB. The frequency of the fan is very unobtrusive, so even extended sessions at maximum performance never get annoying. Both the Dell XPS 18 and the Sony Vaio Tap 20 emit around 40 dB under load.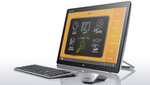 Il Lenovo Horizon 2e è un interessante modello All-In-One. Il sistema può essere usato al meglio a casa, siccome spostarlo di più di qualche metro è scomodo, considerando dimensioni e peso. Non possiamo commentare su come il dispositivo si comporta come strumento per più persone, perché non abbiamo ricevuto gli optional. L'interfaccia Aura è un interessante add-on che permette di accedere ai file multimediali sul sistema o su un dispositivo Android in un modo unico e futuristico. Ci siamo ritrovati a usare la modalità stand molto più frequentemente delle altre, perché non abbiamo potuto trovare molti tipi di utilizzo per un tablet di queste dimensioni.
Le prestazioni sono adeguate per un utente consumer, ma gli appassionati di giochi dovrebbero rivolgersi a un altro prodotto. Nonostante qualche difetto, tastiera e mouse sono discreti e sufficienti per la maggior parte degli utenti. Il display soffre di scarsa luminosità, anche se gli angoli di visualizzazione sono ottimi. Anche se l'autonomia della batteria non è straordinaria, non siamo sicuri che autonomie superiori siano realmente necessarie per un dispositivo di questo tipo. Di fatto, alcuni utenti potrebbero benissimo rivolgersi a un normale AIO senza batteria. La stessa Lenovo ha creato il B40 All-In-One, per esempio, che monta una più potente CPU Intel Core i3-4150T CPU con Intel HD Graphics 4600, un disco fisso da 7200 RPM e 1 TB, lettore DVD integrato a un prezzo inferiore a 700 dollari.